The Library History Buff
Promoting the appreciation, enjoyment, and preservation of library history
---
Benjamin Franklin Stevens
American Bibliographer, Bookseller, and Library Agent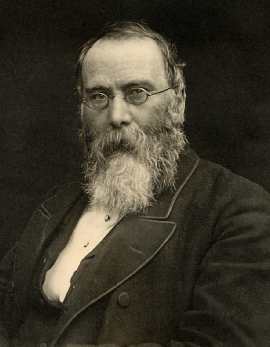 Benjamin Franklin Stevens was born in Barnet, Vermont on February 19, 1833. He went to college at the University of Vermont. For a brief period he worked at the Vermont State Library. In 1860 he moved to England where he spent the rest of his life. He died on March 5, 1902 in Surrey, England. One of his most notable accomplishments was the compilation of the 25 volume publication - Facsimiles of Manuscripts in European Archives Relating to America, 1773-1783, with Descriptions, References and Translations. The photograph of Stevens is by J. Hallet Hyatt and is from the book Memoir of Benjamin Franklin Stevens by G. Manville Fenn which was printed by the Chiswick Press in London in 1903 for private distribution.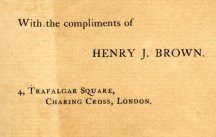 A tipped in insert in my copy of the Memoir of Benjamin Franklin Stevens.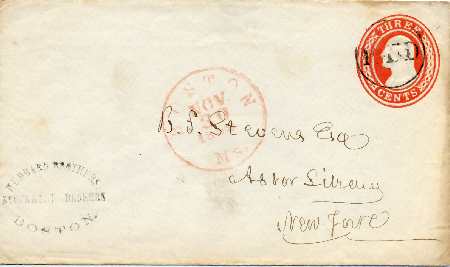 This envelope was mailed to B. F. (Benjamin Franklin) Stevens at the Astor Library by the Boston firm of Hubbard Brothers, Stock & Note Brokers in 1858. Stevens was probably assisting the Astor Library in obtaining books from England where his brother Henry was a book dealer. B. F. Stevens joined his brother in England in 1860. The envelope is a 1853-55 issue stamped envelope. These envelopes were printed by the George F. Nesbitt & Co., New York, NY for the U.S. Post Office Department. Prepayment of postage became mandatory in 1856.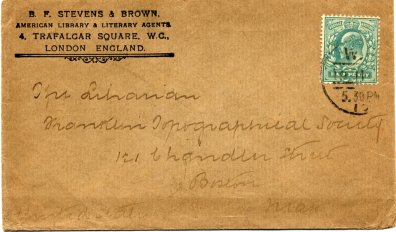 After working for his brother B. F. Stevens established the firm which became B. F. Stevens & Brown, American Library and Literary Agents. This envelope which was mailed to the Librarian of the Franklin Topographical Society in Boston in 1903 contained the promotional material below. This material that the New York agents for B. F. Stevens & Brown are Tice & Lynch.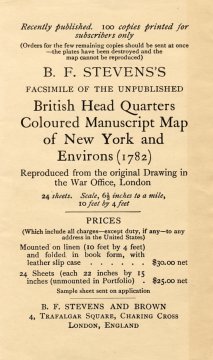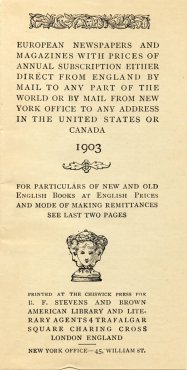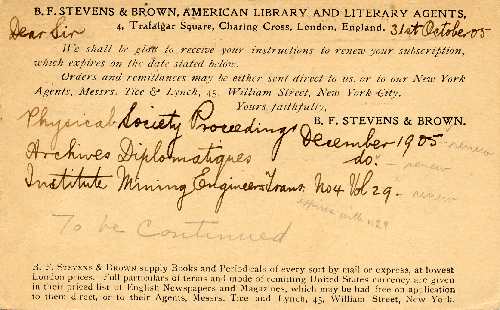 This postal card was mailed to the California State Library in 1905 asking if the library intended to renew periodical subscriptions through B.F. Stevens & Brown.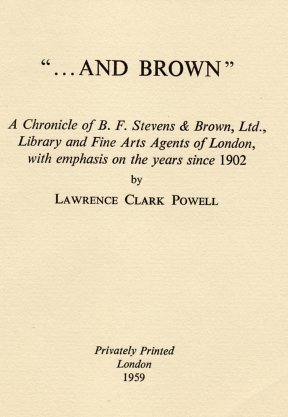 B. F. Stevens & Brown continued its service to American libraries after Stevens' death in 1902. Lawrence Clark Powell wrote a book about the firm in 1959 entitled "...And Brown".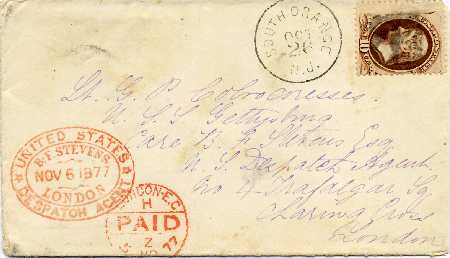 In 1866 Stevens was appointed as Dispatch Agent in London for the United States Government. He held this appointment until his death in 1902. In this capacity he received and forwarded all mail sent to personnel in the U.S. State and Navy Departments in London. This was a supplementary position to his business as a library and literary agent. This envelope was mailed to Lt. G. P. Colrocoresses on the U.S.S. Gettysburg on November 6, 1877 in care of Stevens. Envelopes with Dispatch Agent markings are highly collectible by philatelists.
This site created and maintained by Larry T. Nix
Send comments or questions to nix@libraryhistorybuff.org
Last updated: 06-07-10 © 2005-2010 Larry T. Nix
Also check out the Library History Buff Blog.