The Library History Buff
Promoting the appreciation, enjoyment, and preservation of library history
---
Libraries of the British Isles on Postage Stamps
Stamps issued by the Royal Mail (serving the United Kingdom)

Information technology and library issue of 1982.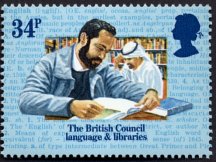 In 1984 a set of stamps elebrating the 50th anniversary of the British Council was issued by the Royal Mail. This stamp highlights the language and libraries projects of the British Council.
In 1985 the Royal Mail issued a large aerogramme to commemorate the 150th anniversary of the birth of Andrew Carnegie. It includes a drawing of the Dunfermline Central Library, the first of 2,811 that Carnegie helped fund in the English speaking world.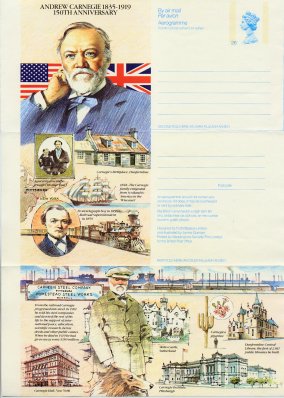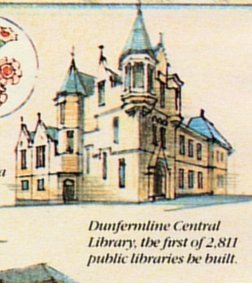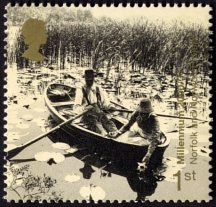 In the year 2000 the Royal Mail like many postal administrations issued multiple stamps to celebrate the new millennium. This stamp honors the Norfolk and Norwich Millennium Project which includes a library and heritage center.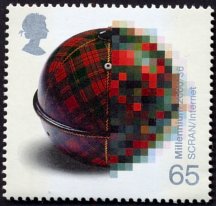 Another stamp issued in 2000. This stamp honors the Scottish Cultural Resources Access Network (SCRAN). SCRAN includes the National Library of Scotland and provides access to 1 million text records plus 120,000 related multimedia resources. The stamp features a photograph from the SCRAN Archives of a tartan wool holder.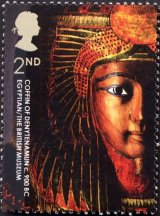 The British Museum was honored on a set of stamps issued by the Royal Mail in 2003 on its 250th anniversary. The stamps including this one featured artifacts from the Museum.
Stamps issued by Guernsey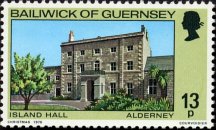 Alderney Island Library located in Island Hall. Stamp issued in 1977.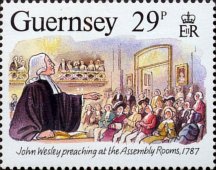 John Wesley preaches at Assembly Rooms, now Guille-Alles Library in Peter Port. The stamp was issued in 1987.
Stamps issued by the Irish Post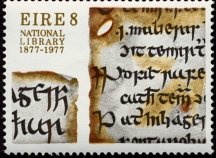 Ireland commemorated the 100th anniversary of the National Library with a stamp in 1977.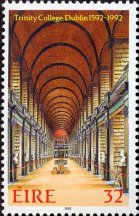 Trinity College Library in Dublin. Stamp issued in 1992.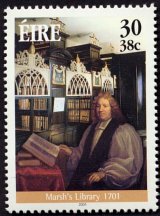 In 2001 Ireland issued a stamp that featured Marsh's Library on the occasion of its 300th anniversary.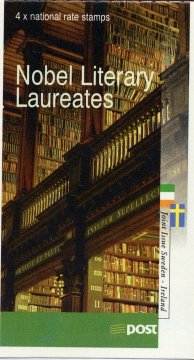 In 2004 Ireland and Sweden issued four stamps jointly which depicted Ireland's four Nobel Literary Laureates. Irish Post put the stamps in a special booklet that features the Long Room of the Trinity College Library.
Stamps issued by the Isle of Man Post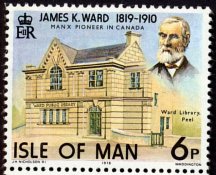 This 1978 stamp features the Ward Library in Peel.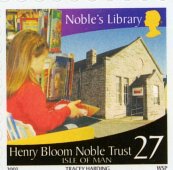 The Isle of Man Post issued a booklet containing ten stamps honoring Henry Bloom Nobel in 2003. This stamp features Noble's Library.
Stamps of British Libraries ssued by Other Countries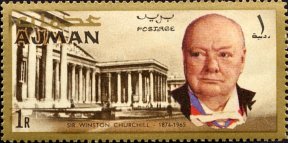 Ajman issued a stamp honoring Winston Churchill in 1966 which included the British Museum in the background (when it included what is now the British Library). Ajman only issued stamps between 1964 and 1972.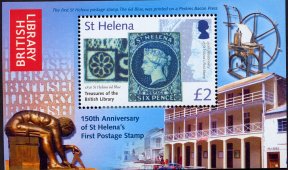 St. Helena's 2006 set of stamps featuring the philatelic "Treasures of the British Library" relating to St. Helena. In addition to this souvenir sheet there were six additional postage stamps.
http://www.bl.uk/news/2006/pressrelease20060109.html

This site created and maintained by Larry T. Nix
Send comments or questions to nix@libraryhistorybuff.org
Last updated: 04-20-10 © 2005-2010 Larry T. Nix
Also check out the Library History Buff Blog.