The Library History Buff
Promoting the appreciation, enjoyment, and preservation of library history
---
Carnegie Libraries on Stamps
Andrew Carnegie was often referred to as the 'Patron Saint of Libraries'. He donated $56,162,622 for the construction of 2509 library buildings throughout the English-speaking parts of the world.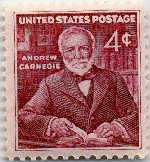 Carnegie was honored by the United States Postal Service with a 4 cent stamp on Nov. 25, 1960. The stamp was issued in conjunction with the 50th anniversary of the Carnegie Endowment for International Peace and the 125th anniversary of Carnegie's birth. Although the focus of the stamp was not Carnegie's library philanthropy, he is pictured in his library.
Only five of the 2509 library buildings funded by Andrew Carnegie have appeared on postage stamps issued by a government postal authority. Although, the United States Postal Service has a policy which would preclude honoring a single public library on a postage stamp, I have suggested that it would be appropriate to honor all of the Carnegie library buildings in the United States collectively.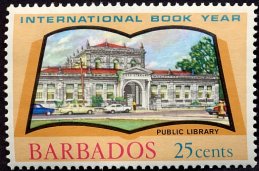 The Carnegie Library in Bridgetown Barbados is shown on one of four stamps issued by Barbados on August 1, 1972 as part of a set of stamps commemorating International Book Year. Scott Catalogue #378.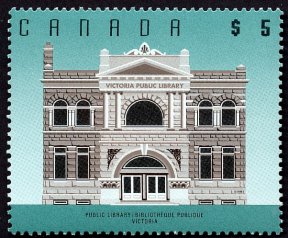 Carnegie contributed funding for 125 libraries in Canada. One of those was the building for the Victoria Public Library in Victoria, British Columbia which was built in 1904. Canada commemorated the library on a postage stamp issued on February 29, 1996. Scott Catalogue #1378
The Carnegie Library in Curepipe, Mauritius appeared on a postage stamp that was part of a set showing stone buildings which were issued on October 9, 2005. Scott Catalogue #1011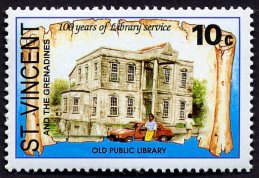 The Carnegie Library in Kingstown, St. Vincent was one of a set of four stamps issued in January, 1994 to commemorate 100 years of library service. Scott Catalogue #2008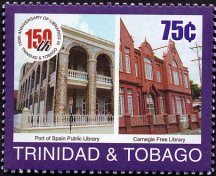 The Carnegie Library in San Fernando, Trinidad was one of two libraries on a stamp issued by Trinidad & Tobago on August 9, 2001. Scott Catalogue #624
It is now possible to create a customized postage stamp in the United States through several commercial companies. I created this stamp showing the Baraboo Carnegie Library in Baraboo, Wisconsin.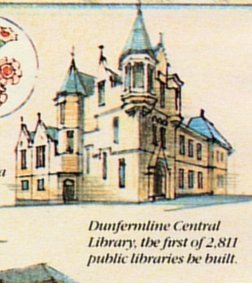 Although not a postage stamp, Great Britain issued a postal aerogramme in November, 1985 on the 150th anniversary of Carnegie's birth. The aerogramme tells Carnegie's life story. It includes an illustration of the Dunfermline Central Library in Scotland which was the first of the public libraries which Carnegie helped to fund.

The Carnegie Library of Pittsburgh is also sown on the British aerogramme.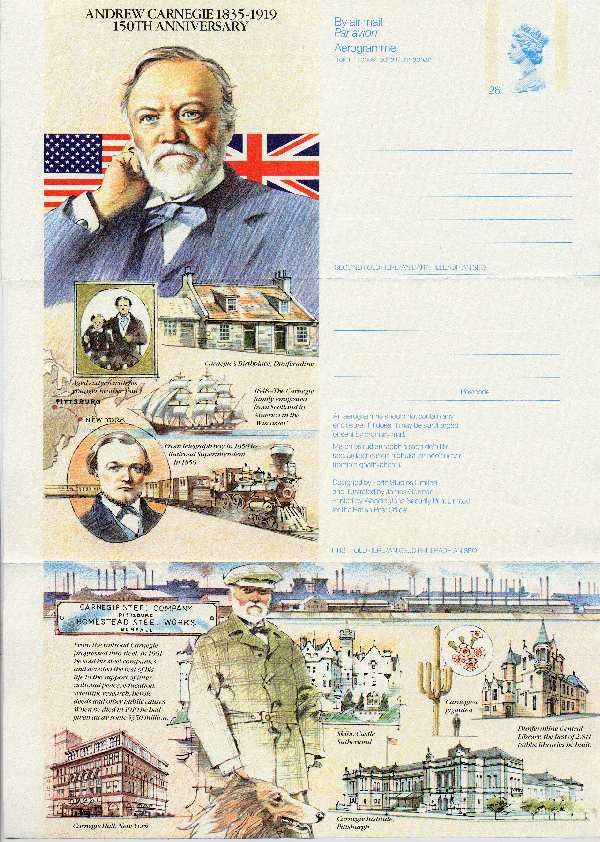 See also:
Carnegie 175th Anniversary Tribute
This site created and maintained by Larry T. Nix
Send comments or questions to nix@libraryhistorybuff.org
Last updated: 01-10-2010 © 2005-2010 Larry T. Nix
Also check out the Library History Buff Blog.