The Library History Buff
Promoting the appreciation, enjoyment, and preservation of library history
---
Library Stock Certificates
Membership libraries which required the purchase of stock or payment of a subscription fee preceded free public libraries. Library stock certificates for these libraries are very collectible items. Ronald Rayman in an article entitled "Taking Stock: Financing Libraries in the 19th Century in the November 15, 1982 issue of Library Journal discussed these stock certificates. He indicated that library related stock certificates were uncommon, and that a dealer in stock certificates had indicated that only about one certificate in 10,000 might be a library issue. The collecting of stock certificates is part of a hobby called "scripophily".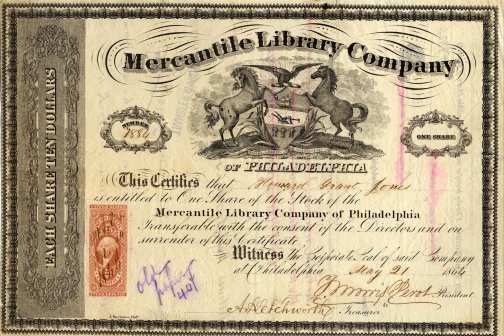 The Mercantile Library Company of Philadelphia was founded in 1821under the name "Philadelphia Library Association". It started out as a subscription library but started issuing stock in 1826. This stock certificate is dated May 21, 1864 and has a revenue stamp affixed. Revenue stamps were introduced during the Civil War to help pay for the war.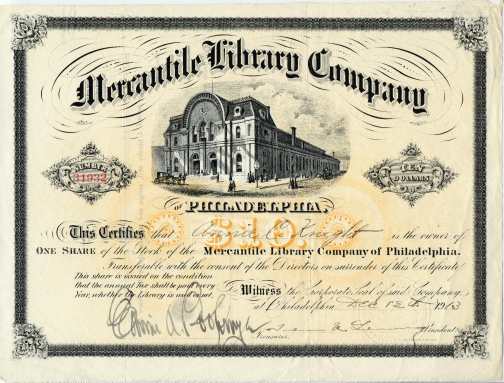 This later certificate (Dec. 12, 1913) for the Mercantile Library Company of Philadelphia has an image of the Library's building.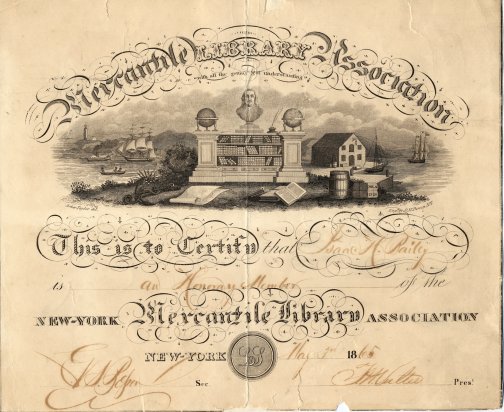 A membership certificate for the Mercantile Library Association of New York. It is dated May 3, 1865.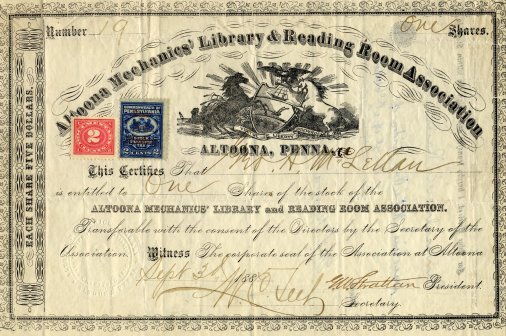 A certificate for one share of stock in the Altoona Mechanics' Library & Reading Room Association in Altoona, PA issued on Sept. 3, 1885.
This certificate was issued by the Public School Library Society of St. Louis in 1867. The Library Society was the predecessor of the St. Louis Public Library.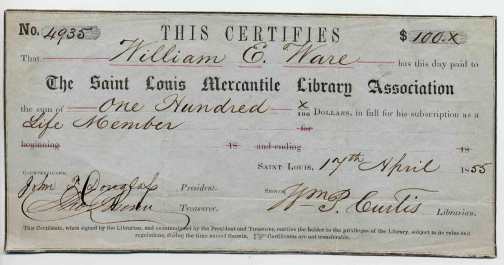 The Saint Louis Mercantile Library Association is one of the few mercantile libraries that have survived.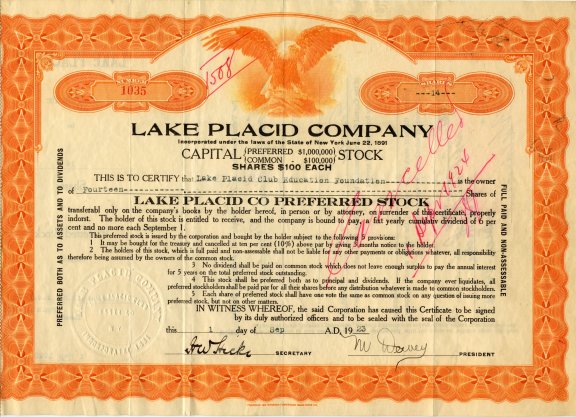 A stock certificate for the Lake Placid Company founded by Melvil Dewey. This one is dated September 1, 1923.
This site created and maintained by Larry T. Nix
Send comments or questions to nix@libraryhistorybuff.org
Last updated: 05-08-2011 © 2005-2011 Larry T. Nix