The Library History Buff
Promoting the appreciation, enjoyment, and preservation of library history
---
Advertising Covers
Covers (envelopes) have been used to promote products, services, and businesses from the beginning of their use in the postal system in America. This has certainly been the case with vendors and organizations doing business with libraries as well as libraries themselves.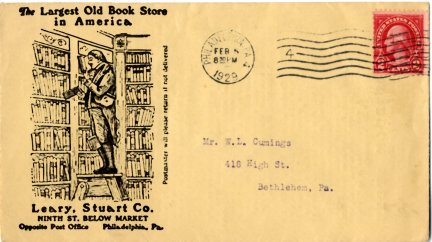 Although this cover was not mailed to or from a library, it is a great example of an advertising cover with a library theme. It was mailed by Leary's Book Store in Philadelphia in 1929. Leary's promoted itself as "The Largest Old Book Store in America". The illustration on the envelope of a man on a ladder in front of book shelves was used on the sign in front of the bookstore. It is based on the painting entitled "The Bookworm" by Carl Spitzweg that is now at the Milwaukee Public Library. Leary's Book Store closed in 1968 after a century of being in business. The sign in front of the bookstore was purchased by Fred Ruffner, owner of the Gale Research Company.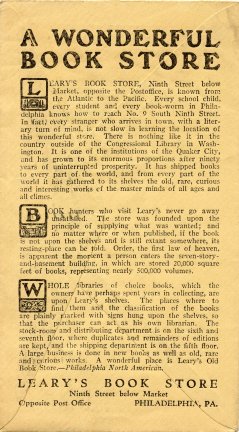 The reverse of the cover has an extensive promotional message. Some excerpts read:
"There is nothing like it in the country outside of the Congressional Library in Washington."
"It has shipped books to every part of the world, and from every part of the world it has gathered to its shelves the old, rare, curious and interesting works of master minds of all ages and climes."
"Order, the first law of heaven, is apparent the moment a person enters the seven-story-and-basement building, in which are stored 20,000 square feet of books, representing nearly 500,000 volumes."
"A wonderful place is Leary's Old Book Store. - Philadelphia North America."
See also the page on Civic Advertising.
This site created and maintained by Larry T. Nix
Send comments or questions to nix@libraryhistorybuff.org
Last updated: 12-11-08 © 2005-2008 Larry T. Nix
Also check out the Library History Buff Blog.