The Library History Buff
Promoting the appreciation, enjoyment, and preservation of library history
---
First Day Covers
For almost every library postage stamp there is one or more first day covers. First day covers as their name indicates are covers (envelopes) that are cancelled with a date cancel that has the same date as the first day of issue of the stamp. The United States Postal Service doesn't produce official first day covers. Instead, the USPS applies the first day cancel to envelopes that are submitted by individual collectors or cachet makers. A cachet is an illustration that is applied to the envelope by various means and is usually related to the design or subject of the postage stamp. The postal service will apply the first day cancel up to thirty days after the issue of the stamp. Because any number of first day covers with different cachets can be produced for a particular stamp issue in the United States, this is an obvious collecting area for postal librariana collectors. In other countries, the norm is that one official first day cover is issued by the country's postal authority. I have a large collection of U.S. and foreign first day covers. Although some serious philatelists frown on covers that haven't actually gone through the mail, there is a significant group of individuals who are primarily first day cover collectors. Many belong to the American First Day Cover Society. I have developed several philatelic exhibits which feature first day covers for library stamps.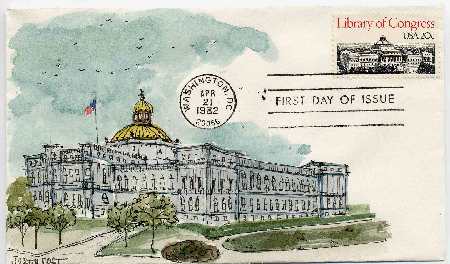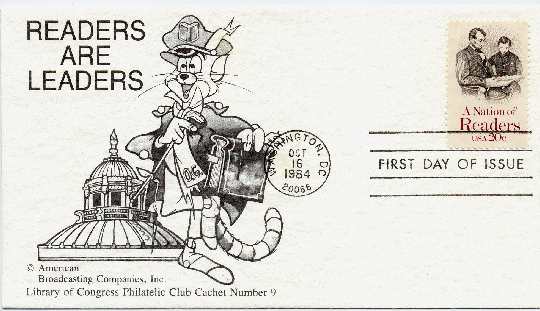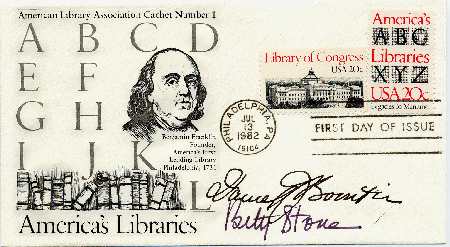 This site created and maintained by Larry T. Nix
Send comments or questions to nix@libraryhistorybuff.org
Last updated: 01-12-09 © 2005-2009 Larry T. Nix
Also check out the Library History Buff Blog.