The Library History Buff
Promoting the appreciation, enjoyment, and preservation of library history
---
Larry T. Nix, The Library History Buff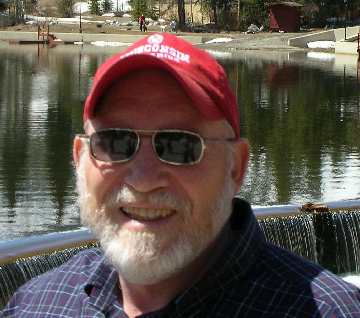 The "Cinderella" stamp at the left was created by my colleagues to help celebrate my retirement from the Wisconsin state library agency in 2003 after 23 years of service. Since my retirement I have pursued my interest in the study and promotion of library history and participation in the hobby of philately.
Current Activities
Webmaster of the Library History Buff Web site .
Publisher and writer of the Library History Buff Blog.
Chair of the Wisconsin Library Heritage Center Steering Committee and webmaster for its website.
Trustee of the American Philatelic Research Library in Bellefonte, PA.
Columnist for the Philatelic Literature Review.
Collect postal librariana. Prepare and display philatelic exhibits featuring postal librariana and library memorabilia. To read about how I became a collector of postal librariana and a library history buff click here.
Life Member of the Wisconsin Library Association.
Continuing Member of the American Library Association.
My Prior Career as a Librarian

Consulting Librarian (part time), 8/2003-2010
Provided consulting assistance to libraries and library organizations on library administration, funding, planning, and advocacy.
Director
Public Library Development Team
Wisconsin Division for Libraries, Technology, and Community Learning
Madison, WI
11/1983 – 8/2003
For the period 9/96-6/97, also served as the Assistant State Superintendent for the Division for Libraries, Technology, and Community Learning (Wisconsin's state librarian).

Library Consultant for Public Library Administration and Buildings
Public Library Development Team
Wisconsin Division for Libraries, Technology, and Community Learning, Madison, WI
5/80 - 11/83

Director
Greenville County Library, Greenville, SC
2/74 - 5/80

Associate Director of Libraries
Public Library of Charlotte and Mecklenburg County, Charlotte, NC
7/7l - 2/74

Director
Clinch Powell Regional Library System, Clinton, TN
8/69 - 6/7l

Education
B. S. (English)
George Peabody College of Vanderbilt University, Nashville, TN

M. S. (Library Science)
Graduate School of Library and Information Science
University of Illinois Champaign-Urbana, Urbana, IL

Professional Library Activities

American Library Association
Member since l969. Continuing Member since 2011. Served on numerous committees and boards including the boards of the Public Library Association and the Library Administration and Management Association.

Wisconsin Library Association
Member since 1980. Honorary Life Member 2005-
Library Advocacy Round Table Board Member 2003-2005.
WLA Legislative Advocate for 2004.
Ad Hoc Committee on Public Library District Legislation 2004-2005.

WLA Foundation
Board Member 2005-2007.
Chair, Wisconsin Library Heritage Center Steering Committee 2007-


This site created and maintained by Larry T. Nix
Send comments or questions to nix@libraryhistorybuff.org
Last updated: 01-17-2012 © 2005-2012 Larry T. Nix