The Library History Buff
Promoting the appreciation, enjoyment, and preservation of library history
---
Souvenir Envelopes/Pictorial Cancellations
You can create a unique memento celebrating a special event or anniversary for your library in cooperation with the United States Postal Service. The USPS routinely approves postmarks that can be applied by your local post office to stamped envelopes commemorating a special date for your library. You can expand on this by creating a souvenir envelope (also called a special event cover) with an illustration (cachet) to which the special postmark can be applied. These souvenir envelopes can then be given away at the special occasion or sold to raise money for the library. This is a great project for a Friends group or a local stamp club. Most post offices also have a citizen advisory committee that can assist with such a project.
A special postmark and envelope can be created for something as historic as the 100th anniversary of the library, as routine as the annual summer library program, or for a grand opening of a new library building or addition. The first step is to have a graphic artist create an illustration that can be used as a postmark. The postmark must include a name for the event followed by the word "station" as well as the date of the event, and it should be submitted to your local post office 10 weeks before the special date. If your postmark is approved (there is normally no problem with this), the post office will arrange to have someone at your library apply the postmark on the date of the event. The library will actually become a temporary station for the post office. These can be made more special or collectible by using a stamp or a combination of stamps selected because of their ties to libraries. The new Longfellow stamp would be a good example of this. Older stamps such as the 1982 "America's libraries" stamp--are readily available through stamp dealers, or you can usually purchase them on eBay. Several companies (Zazzle, PhotoStamps, Endicia) can now provide customized postage. You could create your own stamp with a picture of your library on the stamp.
How to obtain a pictorial cancellation:
http://www.stamps.org/CAC/artu002.htm
Some examples of souvenir envelopes and pictorial cancellations: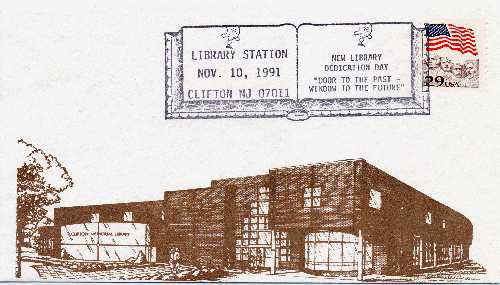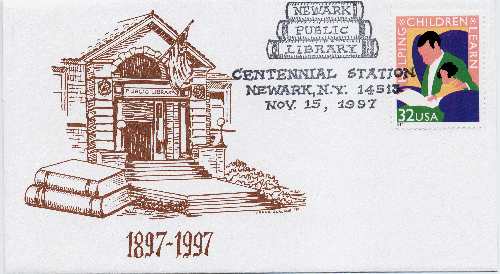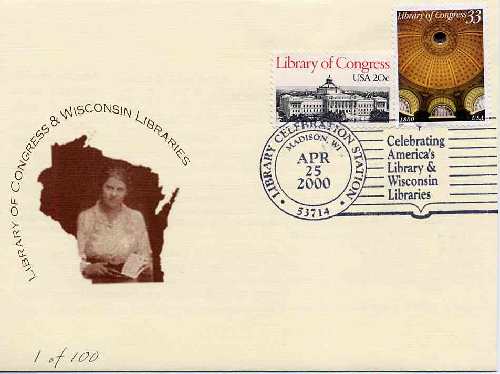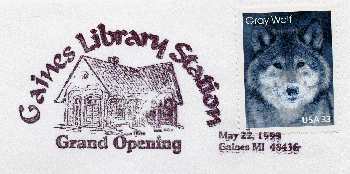 A PhotoStamp of the Baraboo (WI) Public Library.
This site created and maintained by Larry T. Nix
Send comments or questions to nix@libraryhistorybuff.org
Last updated: 01-14-09 © 2005-2009 Larry T. Nix
Also check out the Library History Buff Blog.