The Wisconsin Historical Society Library
The Library of the Wisconsin Historical Society was established in 1848 making it one of the oldest libraries in the state. The building in which it is located was built in 1900 to house both the WHS library and the library of the University of Wisconsin at Madison. The library is home to one of the nation's great North American historical collections.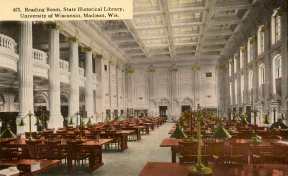 A postcard depiction of the reading room of the Historical Society Library. After visiting the library, Henry M. Utley, then Director of the Detroit Public Library and a former President of the American Library Association, wrote: "The general reading room is the most attractive room of the kind I have ever seen. I do not believe it has its equal."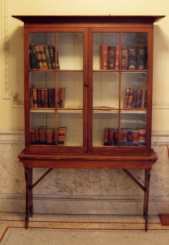 The entire Historical Society Library was housed in this bookcase in 1853. Still preserved, it has been described as the "holy grail" of Wisconsin library artifacts.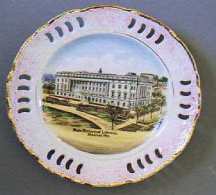 The exterior of the Historical Society Library is depicted on this piece of souvenir china. As one of the most prominent public buildings in Wisconsin, it was depicted on numerous souvenir items.
Other Links for the Wisconsin Historical Society Library
Home Page for the Library http://www.wisconsinhistory.org/libraryarchives/
The building in which the library is housed http://www.wisconsinhistory.org/about/building/