The Library History Buff
Promoting the appreciation, enjoyment, and preservation of library history
---
Melvil Dewey's Library Card
One of the drawbacks to the first postal cards was that they were too large to fit into standard sized library file drawers. Postal cards could be purchased in large uncut sheets, and libraries often had standard messages printed on the back side of these sheets and then had the printer cut the cards down to a standard library index size. Melvil Dewey who was a stickler for efficiency and standardization lobbied the Post Office for many years to issue postal cards in a size that could be used by libraries. In 1898 the Post Office responded to his request and issued a card that was 1/16 of an inch smaller on each side than a standard 3" by 5" index card. Scott's Stamp Catalogue identifies this card as UX 15. Collectors of postal stationary refer to this postal card and subsequent postal cards of this size as "library cards".
An example of the UX 15 library card that is unused but is preprinted with the address of Melvil Dewey. Dewey's address in Albany, New York has been stamped out and replaced with his Lake Placid address. After he resigned as New York State Librarian he moved to Lake Placid.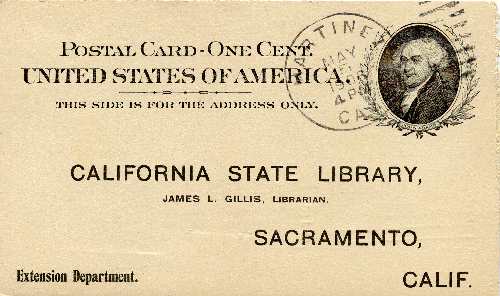 This UX15 library postal card was used by the California State Library to collect news items for its magazine. It is postmarked May 5, 1906. The reverse of the card which is shown below has an interesting news item from the Martinez Free Reading Room and Library.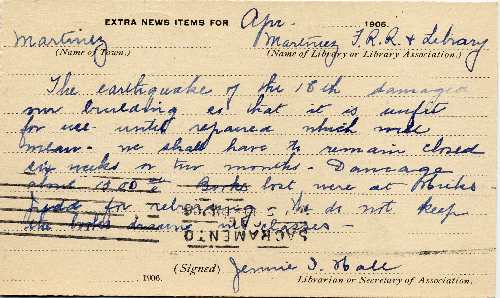 The message on this card reads in part: "The earthquake of the 18th [April 18, 1906] damaged our building so that it is unfit for use until repaired which will mean we shall have to remain closed six weeks or two months. Damage about $1,500."
Return to the Postal Cards and Libraries page.
This site created and maintained by Larry T. Nix
Send comments or questions to nix@libraryhistorybuff.org
Last updated: 01-12-09 © 2005-2009 Larry T. Nix
Also check out the Library History Buff Blog.