The Library History Buff
Promoting the appreciation, enjoyment, and preservation of library history
---

Postal Cards and Libraries
The Post Office Department introduced postal cards in the United States in 1873. They came with pre-printed postage and cost only one cent to mail. They were immensely popular with individuals, businesses, and organizations, and they quickly became the email (without the spam) of 19th century America.

Libraries were quick to take advantage of postal cards and used them for a multitude of purposes including overdue notices, acknowledging gifts, requesting free material, interlibrary loan requests, and others.

The postal card below is an example of the first postal card issued in 1873 by the U.S.P.O.D. It is an overdue notice that was mailed on December 27, 1873 by the Memorial Hall Library in Andover, MA. The library was established in 1873 and the card is signed by Ballard Holt, the first librarian. Holt was also hired as janitor for the library.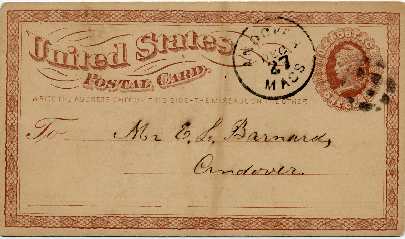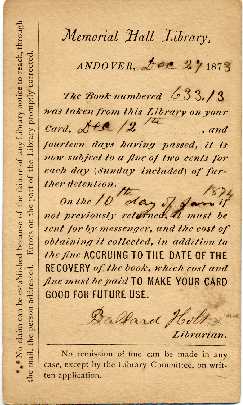 Although postal cards are by their very nature ephemeral, they sometimes contain a significant amount of information about both postal history and library history. They also provide evidence of how libraries conducted library business on a day to day basis. A good example of this is a 1932 postal card mailed by the University of Illinois Library. Sometimes a collector of postal librariana gets lucky and finds a card mailed to or from a noted librarian such as one from Melvil Dewey to Ainsworth Spofford. Melvil Dewey lobbied the Post Office Department for a catalog card sized postal card and one was issued in 1898. This card and others of similar size are referred to as "library cards".
The most valuable current example of a used postal card is one that is referred to as the Long Beach Public Library Card. It is a 1911 issue two cent international postal card that is listed in the 2006 Scott Specialized Catalogue of United States Stamps & Covers as number UX36 with the value given as $50,000. The reason for the card's rarity and value is that the two cent card was incorrectly reduced to one cent by the post office with a special overprint after World War I. A one cent surcharge on domestic postal cards was eliminated after World War I, but the two cent international rate continued.
Modern postal cards are used to commemorate institutions. The Low Memorial Library of Columbia University and the Redwood Library have been subjects of commemorations.
For those who might be interested in further information about postal cards, there is an organization devoted to the collection of worldwide postal stationery including postal cards. It is the United Postal Stationery Society (UPSS).
This site created and maintained by Larry T. Nix
Send comments or questions to nix@libraryhistorybuff.org
Last updated: 01-12-09 © 2005-2009 Larry T. Nix
Also check out the Library History Buff Blog.