The Library History Buff
Promoting the appreciation, enjoyment, and preservation of library history
---
Library People on Postage Stamps - An Introduction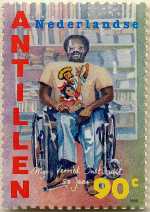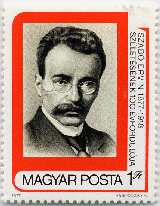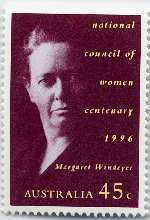 This Web page contains an introduction to library people on postage stamps. Click on this link to go to U.S. Library People on Postage Stamps. Click on this link to go to World Library People on Postage Stamps.
Postage stamps are devices for indicating prepayment of a fee for postal services. Great Britain issued the first adhesive postage stamp in the world in 1840. The United States government issued its first postage stamps in 1845. Postage stamps have developed into a method of honoring and commemorating individuals, institutions, and events. People are usually depicted on postage stamps because they are famous or they have made an extraordinary contribution to the world or to a single country. Because of the limited number of stamps which are issued, depiction on a postage stamp represents one of the highest forms of recognition a government can bestow on an individual. Postal authorities throughout the world have also realized that postage stamps which are purchased as collectibles can be a significant source of revenue without the need to provide an actual service. This has led to the issuing of many stamps which depict extremely popular people such as entertainers and sports figures. The United States Elvis Presley stamp sold more copies than any other postage stamp in history. Millions of these were retained without being used as postage.
People who have worked in a library or made a contribution to libraries have appeared on relatively few postage stamps. Usually when they have, it is because they made a contribution to society in some other capacity than library work or support. It is regrettable that more library people have not been honored on postage stamps. Unfortunately, it is an indication of the value which society places on those who work in or for libraries.
The earliest discussion of libraries and librarians on postage stamps was an article by John Boynton Kaiser on "Librarianship and Philately" in Library Journal in July, 1955. Following that article Kaiser and John Henry Richter developed a list of librarians and archivists for an article in Topical Time (the magazine of the American Topical Association) in 1956. John Henry Richter who was the Librarian of the University of Michigan at Ann Arbor and a specialist in stamps relating to Judaica did extensive research on stamps that featured individuals who had worked in a library. Writing in Norman D. Stevens' A Guide to Collecting Librariana in 1986, Richter discussed his passion for identifying postage stamps which depicted individuals who "at some time in their life, had worked in a library in some kind of professional or non-professional capacity." He explained that after 25 years of research on this topic, the number of such individuals identified was almost 300. He went on to say that he had compiled a list of over 1,000 "librarians in waiting" which he checked against new postage stamps being issued.
Although Richter is now deceased, before he died he joined with Hans Krol to publish lists of libraries and archives on postage stamps in Topical Time in 1979. Hans Krol who is a retired librarian in Hemsteede in the Netherlands continues to be an active collector of stamps depicting libraries and librarians and archives and archivists. He is also the founder of the Bibliotheekmuseum in Amsterdam. With the assistance of Krol, I have developed checklists of postage stamps which depict "library people", libraries, and archives and archivists on postage stamps. Although not quite as passionate as Richter in this regard, we continue to update the lists on a regular basis.
Vladimir F. Wertsman is a retired librarian living in New York City. He is a long time bibliophilatelist and has written several articles on this topic. Wertsman is a strong advocate for more recognition of librarians on postage stamps. In the Winter 2005 issue of Multicultural Review, Wertzman discussed this need and identified 47 library people on postage stamps.
Some thoughts on lobbying for a United States stamp honoring an American librarian.
This site created and maintained by Larry T. Nix
Send comments or questions to nix@libraryhistorybuff.org
Last updated: 02-09-09 © 2005-2009 Larry T. Nix
Also check out the Library History Buff Blog.